Sunnyside Garden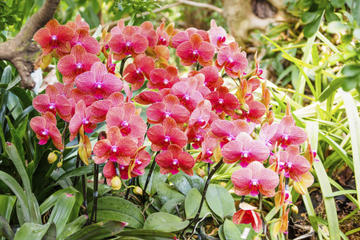 This five-acre private garden is home to some of the oldest mahogany trees in Grenada, as well as some of the island's most treasured native plants and flowers. With the ocean bordering one side of the estate and the mountains facing the other, the gardens are particularly scenic and are frequently featured as a top garden spot in the Caribbean.
Some garden highlights include the Japanese area and fish ponds; exotic tropical flowers such as hibiscus and bougainvillea; and the variety of tropical fruit trees such as coconut, mango and banana. Hummingbirds and other small local birds are a common sight, and large tortoises roam the grounds. Of course, the scent of spice plants on the "Spice Island," as Grenada is known, follows visitors throughout. Nutmeg and cashews are also grown here, and it's best to visit with a guide who can point out the various exotic plants.
Sunnyside Garden is just outside of St George's on Grenada, off the St Paul's main road. Access to the private residence is by appointment or via an authorized tour operator only.